Specialists in orthopedic surgery and bio-orthopedics
Diagnosis. Treatment. Rehabilitation.
An orthopedic one-stop-shop
Diagnosis. Treatment. Rehabilitation.
Elit Ortopedi is a specialist orthopedic and bio-orthopedic surgical clinic. Our aim is to make it easy for patients to book a time and receive treatment with minimal wait time. Our primary focus is our patients, so we place great emphasis on listening, understanding, and explaining through every step of the treatment process – from first meeting to rehabilitation and follow up care.

En träffsäker diagnos är förutsättningen för en effektiv behandlingsplan.
Vi erbjuder en stor verktygslåda av både biologiska behandlingar såväl som traditionella operationer.
Vi följer upp din behandling med en gedigen rehabiliteringsplan.
Knee osteoarthritis means that the cartilage in the joint has thinned and can no longer withstand the same load as before.
Knee problems are common at all ages. We treat all types of knee problems.
Many people have problems with their feet from time to time. We treat all types of foot problems.
Hip pain can occur for a variety of reasons. Book an appointment for an initial investigation.
Pain in the hand and fingers is very common largely because these are the body parts that we use the most.

Shoulder problems are common among athletes and older people.
Tennis elbow, golfer's elbow, cell phone elbow, mouse elbow – there are many things that can cause elbow problems.
We have deep knowledge and extensive experience in diagnosing, treating and rehabilitating sports injuries.
Biological treatments use the body's own systems and tissues to optimize healing in the musculoskeletal system. The body always strives for healing and through the patient's own blood or cells, the healing process can be optimized. Regenerative orthobiology is an innovative, proven and effective treatment method.
Day surgery and arthroscopy
There are many different types of surgery. We perform day surgery operations, primarily with local anesthesia. We also have the option of performing arthroscopy, where we insert a small camera through a tiny hole in the skin so we can view the joint where you have your problem. We perform arthroscopy in shoulders, elbows, knees and feet.

With us, you don't need a referral. You can make an appointment directly or contact us for more information. As we are a private clinic, you are responsible for all the costs of your care. If you have private healthcare insurance, we need confirmation that they cover your healthcare costs.

We are located in modern premises on Odengatan, right in the center of Stockholm, and very accessible by public transport and car.
Läkarhuset Odenplan, floor 7
Odengatan 69
113 22 Stockholm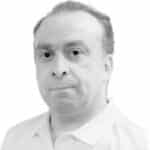 Dr Georg Ferm. Specialist in Orthopedics, Bio-orthopaedics and MSK ultrasound. Founder.